Access Solutions
Dial Tone / Internet / WAN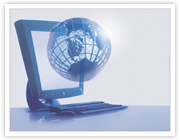 How you connect to the world requires careful selection and ongoing management. IT2 understands the importance of having communication access solutions that are right for your business. That is why we have established relationships with only the best providers of access services in our area. Plus, we act as an advocate for you to get the best service at the best possible price.
IT2 can help evaluate your existing dial tone, Internet and WAN connections, and design solutions from the right partner to help you meet and exceed your business needs.
IT2 has made it our business to:
Find the right partner for you - we have selected our partners based on technology, financial stability and customer service
Simplify getting connected - we take care of your access services while you remain focused on your business
Get you the best value for your dollar - we can help you negotiate the best deal from our partners
If you are trying to decide which solution is right for your business
– don't worry. We're here to help.