IT Consulting
Affordable IT Consultant services and IT Outsourcing for businesses in the Greater Dayton Area and throughout Northern Cincinnati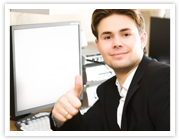 Are Your IT Costs Constantly Breaking The Budget? "Can IT Consulting services help me decide which technology I need and what I can live without?" Ever thought about IT Consulting services?
IT Squared Resource, Inc. provides economical solutions to IT Outsourcing and Virtual CIO (Chief Information Officer) services that can help you achieve balance between the cost of your technology and its benefit to your business in Greater Dayton and Northern Cincinnati.
With a tailor-made IT Consulting plan from the experts at IT2, you get:
An investment for the long-term success of your company, with expert Technology Planning for your unique business needs.
Comprehensive answers to all of your IT needs, including Installation and Setup of your solution.
One source for all your technology needs, with IT Management to keep your new system running smoothly.
Stop throwing money away on technology that doesn't give anything back to your business.
As your Virtual CIO, IT2 acts as an extension of your business, saving you time and money in the long run. Serving Greater Dayton and Northern Cincinnati, including Franklin, Beavercreek, Centerville, Springboro, Middletown and Monroe, we deliver IT Consulting Services that let you capitalize on more opportunities.
Whether your company is in need of IT outsourcing, IT consulting services, outsourced IT, technical consulting services, small business server consulting, network consulting, computer security consultants, Virtual CIO (Chief Information Officer) service, or computer consultancy for small businesses, we can help you take care of it.
A customized IT strategy doesn't have to break the bank. Find out how the advice of an expert IT Consultant can change your business forever.