Security
Well-planned network security services and computer data security solutions for businesses in the Greater Dayton Area and throughout Northern Cincinnati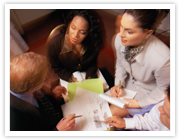 If Your Business Suffered An Internet Attack From Hackers Or Viruses Would You Know What To Do? "If a staff member lost one of our laptop computers or flash drives, our business's security would definitely be compromised." Worried about things like this?
With Computer Data Security and Virus Removal that covers every aspect of your company, you can focus on more important things. Our Network and Data Security solutions, along with virus removal, malware and spam protection services are the answer to your security concerns in Greater Dayton and Northern Cincinnati.
A top-of-the-line security architecture from IT2 includes:
Enhanced productivity, with data security management that lets you focus on running your business.
Safety from hackers and viruses, with comprehensive and reliable network security.
A teammate in security, working with you to design and implement a state-of-the-art security architecture.
When your security solution covers all the bases of data and network protection, you have the confidence to concentrate on what matters most - your company.
IT Squared Resource, Inc. has the experience and innovation you can count on to safeguard your company from the full range of security threats you face. Helping businesses in Franklin, Beavercreek, Centerville, Springboro and throughout Greater Dayton and Northern Cincinnati, we deliver Wireless Network Security services that can put your mind at ease, knowing your company and network are safe and sound.
No matter if your firm needs data security management, Internet security, network and data security, PC protection, spyware protection, computer data security, wireless network security, or virus removal, we can take care of it for you.
If you rely on using the Internet for doing business, you've already put yourself at risk. Secure your business today, with Computer Data Security and Virus Removal services that will truly protect you for the long haul.