On Demand Services
Affordable Computer PC Repair and IT Help you can count on in the Greater Dayton Area and throughout Northern Cincinnati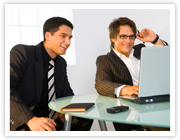 Are You Sick And Tired Of Paying Slow And Imcompetent IT Guys? "Why can't I get computer software help that's both affordable AND reliable?" Does this sound like you?
IT Squared Resource, Inc. provides expert computer PC repair and IT help at a price you can finally afford in Greater Dayton and Northern Cincinnati.
With IT2 at your disposal for IT help, you get:
Budget-conscious services, with flexible pricing structures for all your IT help.
Your very own IT department on call, including comprehensive Technology Support that costs less than keeping a full-time IT guy on staff.
Rapid attention to your IT problems, helping you get back to business faster when something goes wrong.
On Demand IT support services let you stop focusing on the cost of broken technology, and focus on your business instead.
IT2 has the experience to fix whatever goes wrong with your IT. Serving Franklin, Beavercreek, Centerville, Springboro and throughout Greater Dayton and Northern Cincinnati, our computer software help & support is the key to increasing your business's profitability.
Whether your business is in need of PC tech support help online, computer diagnostics, remote PC repair, software help, computer repair services, online computer support, computer help, computer and technology support, fixing of computer problems, or PC help & IT Help, we're the company you can rely on.
Tired of wasting valuable time looking for the right IT company? Discover a better way, with an IT help strategy from a team that keeps your budget in mind.