Office Moves
Long-term Office Moving and Office Cable Installation services for developing businesses in the Greater Dayton Area and throughout Northern Cincinnati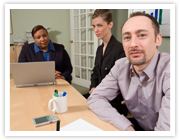 Worried Your Technology Can No Longer Keep Up With Your Business? "How often do businesses rewire their entire offices for new IT?" Sound like something you've thought about?
IT Squared Resource, Inc. provides office moving and office cabling services that are built with room to grow in Greater Dayton and Northern Cincinnati, so your IT can expand as your business does.
IT2 offers cabling services and office moving solutions that will:
Grow and change with you, by providing the most scalable and reliable office cabling services.
Produce a return on your investment, with office moving services that won't accrue additional costs.
Get your company back on track quickly, by delivering relocation services that won't create costly downtime.
With cabling solutions that are customized to your business needs, you gain the confidence that your company is supported by a solid foundation of IT.
IT2 has a team of experts that can create a network and cabling plan to benefit your business for many years to come. Serving Greater Dayton and Northern Cincinnati, including Franklin, Beavercreek, Centerville, Springboro, Middletown and Monroe, our experts can provide office cable management services that keep your business moving forward.
When you rely on our tailor-made solutions for structured cabling systems, office moving, office cable management, office cabling services, technology relocation planning, communications & network cabling, or equipment/server racks, you know you're getting a solution that works for the life of your business.
Our expertise goes beyond industry standards, so your strategic cabling solution is one you can rely on for a long time to come. Our office cabling services and office moving solutions are always created with your long-term success in mind.