IT Services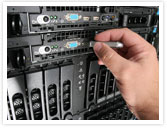 Forget Dealing With Unhelpful Customer Service Reps
Many small businesses find it challenging to deploy, maintain, and protect their technology. Whether you're looking to keep IT costs predictable, avoid unexpected problems, communicate more effectively, or make a plan for business continuity, IT Squared Resource, Inc. has a solution for you.
IT2 stands for both IT and Telecom services. No matter what your technology needs, we have the solution!
Network Design
Your network is one of the major arteries of your business and having a reliable, scalable network that meets demand today and allows you to easily implement new applications in the future is critical to a productive, profitable operation. CAT5e / CAT6, Fiber, Wireless, Server Based or Peer-to-Peer – IT2 is your resource for a design that fits your budget, meets your needs and gets your business up and running.
Network Management
As your outsourced IT department or to help your current IT Manager focus on core business – IT2 Resource makes sure your local area network stays up and running and is adding to your bottom line rather than lowering it.
Data Hardware
Need workstations, laptops, a special applications server or a security gateway? IT2 Resource can help you with everything from desktops and laptops to custom applications servers that are built to order using only the highest quality components from manufacturers you can trust like Intel, Western Digital and Kingston. Or if you prefer, as registered partners with Dell and HP, we can help you select, implement and manage components from these leading manufacturers.
Professional Services
Flat Rate Managed Services: Server and Desktop Maintenance and Monitoring, Business Continuity: Backup and Disaster Recovery, and Offsite Data Storage
Strategic Planning & Design
Asset Management
Web Design
"IT2 Resource takes a genuine interest in our needs."
Jim Roberson
River Valley Credit Union
Services we provide:
Troubleshooting and problem solving on all networks and PCs
Hardware installation and support
Virus and spyware removal and protection
Security solutions
VPN (Virtual Private Networks)
Remote access
Server installations and upgrades
Spam filtering and e-mail solutions
Internet connection
Web content filtering
System backups, onsite and offsite
Complete network management and support
Help desk
Solutions from IT Squared Resource, Inc. are easy, quick, and economical to implement.